Meet the Team
We understand the importance of building and trust.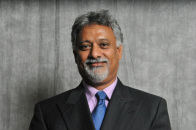 Moqueet Syed PE, CHP, CHSS. Billing | EMR | PM Manager
As the founder, leader and entrepreneur for many successful ventures, Moqueet has continuously adapted to the changes in healthcare and brings 25 years of experience including 12 years as President and CEO of Batuta, an independent diagnostic testing facility (IDTF). His healthcare expertise extends to marketing, credentialing, contracts and agreements, EMR implementation, meaningful use compliance, practice management, billing, diagnostics management, information training, computer consulting and HIPAA consulting. Moqueet is also the founding member of CHOOSE DUPAGE, formerly DUPAGEBIZ, a public-private partnership to enhance economic growth of DuPage County. He holds a Master of Science degree in Engineering Management from University of Alaska and a Bachelor's degree in Civil Engineering. He is a certified HIPAA Privacy and Security Professional and has consulted on HIPAA security issues to various clients all over the US.
Antonio Tony Harrison, Director, Marketing
Charles Smith, Director, Operations
Salma Syed, Director, Medical Billing
Mara Harris, Manager, Coding Group
Saleha Munshi, Manager, AR Group